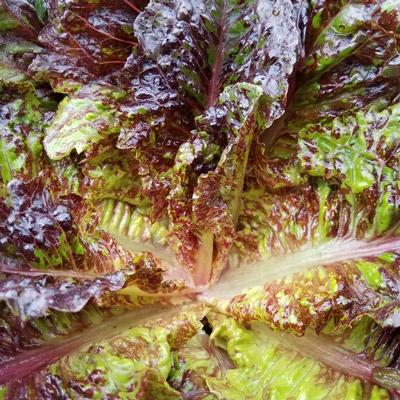 Heavenly Roots
Camo Savoy Gem Lettuce
Lactuca sativa
A modest sized and immodestly coloured Gem Romaine is a limey-olive green with dark streaks of burgundy and a yellow core. We observed near-perfect uniformity and continued seeding this variety all-year as it performed great in the heat, and thrived well into October. Use it in salad mix or on its own as a crispy, flavourful head lettuce. Tighter spacing will yield smaller tighter heads. 6" spacing will yield 8-10" short romaines. A true original that captured our hearts. 

OSSI pledged variety. For more info about our involvement with OSSI see here.
You have the freedom to use these OSSI-Pledged seeds in any way you choose. In return, you pledge not to restrict others' use of these seeds or their derivatives by patents or other means, and to include this Pledge with any transfer of these seeds or their derivatives.
---
Share this Product
---
More from this collection